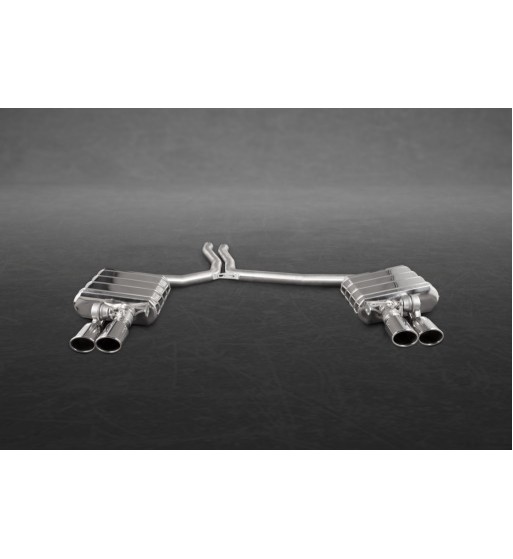  
Capristo exhaust flaps for the AUDI  S5 V6 (8T & 8F)
Capristo exhaust flaps for the AUDI  S5 V6 (8T & 8F), Sedan, Avant, Cabriolet and Facelift.
Since the quality decides with Capristo, this exhaust system is manufactured from heat-resistant 1,4828 high-grade steel. This high-quality material gives the Capristo system a long service life. The exhaust systems are manufactured exclusively by hand in a WIG welding process. The systems are then polished to a high gloss. A quality control completes the manufacturing process.
This system is available for the S5 with V8 .
The V8 shows a massive increase in power/torque over the whole speed range and the sound gets an aggressive V8 characteristic. More power approx. 20HP with the V8.
With the V6 engines there is a significant torque increase in the lower speed range. The sound becomes much more aggressive compared to the standard system. Cat replacement and silencer replacement are the prerequisites for performance increases (control unit optimization) up to 550 HP. The pipe diameters are larger than the original.
With use of the control unit the system is freely adjustable and pressure-controlled!
Matching the optical and technical requirements, you can bring your AUDI with this flap exhaust system to a priceless acoustic sound.
As an owner of a Capristo exhaust system, you can experience a phenomenal sound permanently. Convince yourself! Convince yourself!
No customer reviews for the moment.