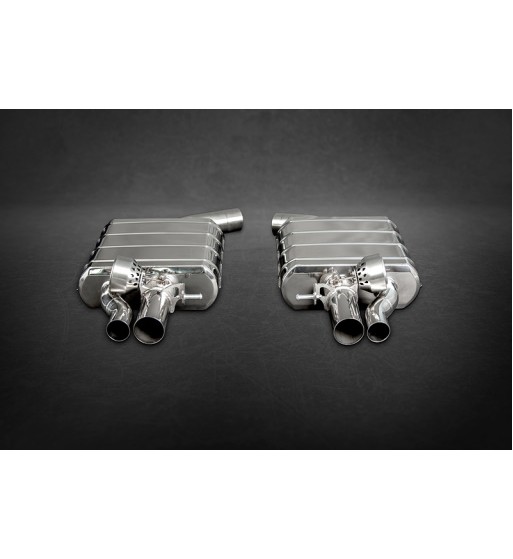  
Capristo Exhaust for Audi RS6 C7
Capristo high-quality rear silencer with exhaust flaps for the AUDI RS6 Biturbo C7 2013.
Since the quality decides with Capristo, this exhaust system is manufactured from heat-resistant 1,4828 high-grade steel. This high-quality material gives the Capristo system a long service life. The exhaust systems are manufactured exclusively by hand in a WIG welding process. The systems are then polished to a high gloss. A quality control completes the manufacturing process.
This system does not need a middle silencer and has a parts certificate. It has two exhaust gas flaps and is supplied with the programmable flap control CES-3 including handheld transmitter, accessories and software.
With use of the control unit CES-3 the system is freely adjustable and pressure-controlled!
Matching the optical and technical demands, you can bring your AUDI RS6 Biturbo C7 2013 with this flap exhaust system to a priceless acoustic sound.
As an owner of a Capristo exhaust system, you can experience a phenomenal sound permanently. Convince yourself! Convince yourself!
Flap exhaust system, incl. programmable controller CES-3, with ECE approval
No customer reviews for the moment.