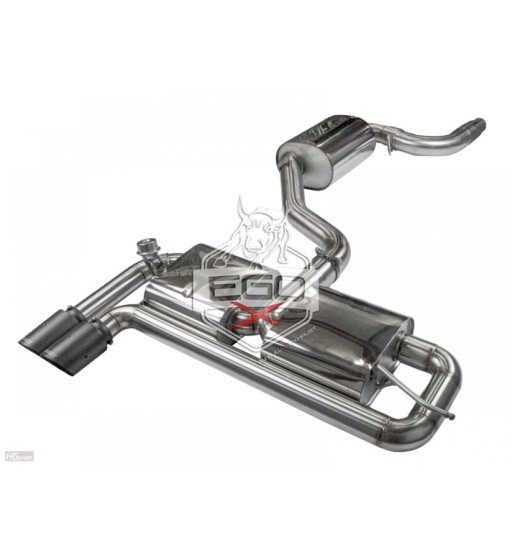  
EGO-X 3 inch catback exhaust for VW Golf Mk 5 GTI left sided
This EGO-X exhaust system for VW Golf mk.V GTI left sided is handmade in 3 inches.
Due the driving, you can control the valve. If your vehicle has Drive Select (MMI), the control is available throughdrivers control panel. For vehicle without driver select we deliver a optional button.
Light on: Valve closed, Light off: Valve open.
Generally, the Bull-X Tronic Control Unit offers two options for control:
- Sport (Dynamic, Race): the flap is always open, except when standing
- Comfort mode (the flap opens from 75% open throttle position, otherwise the flap is always closed)
Note: A subsequent manipulation of the power supply from the control unit by means of a switch will invalidate the operating permit, since the flap would thus be open when stationary.
According to ECE directives in Germany, the flap is not allowed to be open in the stand.
This Catback Exhaust System is ECE-approved, so that it can be used without extra entry in your vehicle papers.
Technical details
- Pipe diameter: 3" (76mm)
- Pipe material: stainless steel
- absorption silencer: handmade in our company
- Bull-X Tronic flap control
- ECE type-approval inclusive
- From catalyst
Delivery:
- Exhaust Catback
- Bull-X Tronic
- Cable material for connection to the on-board electronics
- Vacuum hose for connecting Bull-X Tronic exhaust flap
- Tailpipes (if selected)
- Installation Instructions & Schematic
- Mounting material
- Selected connection pipe optional for Bull-X downpipe or original downpipe
- Optional "resonated " or "non resonated" construction of the silencer
Suitable for following Models:
Golf 5 GTI, Golf GTI EDITION 30
No customer reviews for the moment.