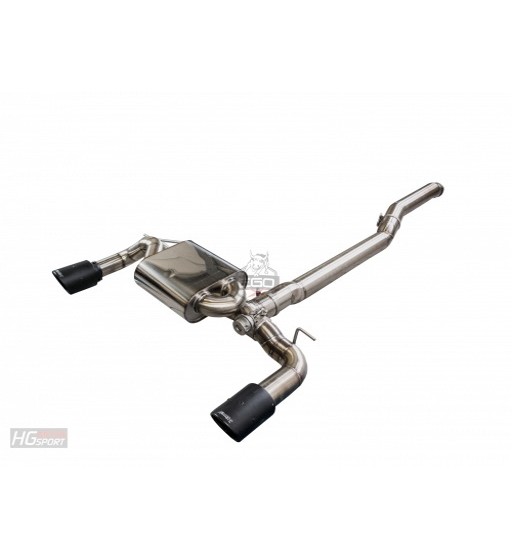  
EGO-X 3.5" catback exhaust for BMW F22 235i/240i
EGO-X 3.5" catback exhaust for BMW F22 235i/240i
Caution: The exhaust systems with ECE are not affected by the "flap ban" and may continue to be used legally in road traffic in Germany.
This EGO-X exhaust system for BMW F22 235i/240i is processed by TIG welding and handmade. It consists of absorption silencers without chambers. The piping diameter is about 3.5 inches (89mm).
While driving, you´re able to control the exhaust flap. If your vehicle has got "driver experience (sportmode)", it will also be possible to control it by this. For vehicles without "sportmode", you can control it too, but by a supplied button.
Light on: Valve closed, Light off: Valve open.
Generally, the Bull-X Tronic Control Unit offers two options for control:
- Sport (Dynamic, Race): the flap is always open, except when standing
- Comfort mode (the flap opens from 75% open throttle position, otherwise the flap is always closed)
Note: A subsequent manipulation of the power supply from the control unit by means of a switch will invalidate the operating permit, since the flap would thus be open when stationary.
According to ECE directives in Germany, the flap is not allowed to be open in the stand.
This exhaust system has a type-approval, so it can be moved free registration on the road. The entire system consists of absorption silencers without chambers, and is manufactured in the TIG welding process.
Important notes:
Note 1: For the 2.35i a part of the OEM exhaust system has to be taken over and disconnected. (it is about the 50cm long piece of the exhaust system in which the oval flexible pipe is located)
The background is as follows: The oval OEM pipe has a connection diameter of 83mm at the point where our adapter is attached. A production from downpipe in 89mm is not possible due to the position of the OEM downpipe on the 35er models and would mean that this piece has to be manufactured in 76mm. This would represent an 8mm smaller cross-section than OEM and thus a bottleneck. Since we always design our exhaust systems for the maximum possible performance increase, this is the only option.
Note 2: On vehicles with OPF, the OPF is located under the vehicle and integrated into the OEM exhaust system. So, the OEM exhaust system must first be cut behind the OPF, then the EGO-X exhaust system will be mounted with the adapter pipe at the separated point by a clamp.
Technical details:
- Pipe diameter: 3.5" (89mm)
- Pipe material: stainless steel
- absorption silencer: handmade in house
- Bull-X Tronic flap control
- TIG welded
- ECE type-approval included
Delivery:
- Catback Exhaust system
- Bull-X Tronic Control Unit
- Connection materials to connect the control unit to the on-board electronics
- Vacuum hose for activation of the exhaust flap
- Tailpipes (optional available)
- Installation Manual
- Mounting materials
Suitable for following Models:
BMW M235i, M240i
No customer reviews for the moment.