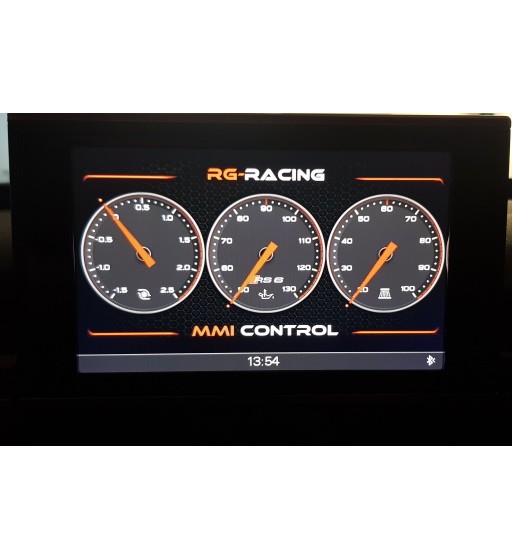  
MMI Control Audi A6/S6/RS6 4G FL
MMI-CONTROL
VAG Multifunction display in navigation system
OBD Display values in navigation system
The MMI-Control enables the individualized display of various measured values and status information on the standard navigation display.
Functions:
Visualization of three measured values as a round instrument
Table display of up to 8 measured values and 5 pages
Display of notifications from an Android smartphone (eMail, SMS and WhatsApp)
Already supported vehicles
Prerequisite is an already existing MIB1 or MIB2 with a display resolution of 800x480 or 400x240 pixels and an engine control unit that supports the UDS diagnostic protocol.
Audi A3 8V from 05/2012 (*read note)
Audi A6 4G from 09/2014 (*read note) Special cable set
Seat Leon 5F from 2013 (*read note)
VW Passat B8 2016 (*read note)
Operation
The MMI-Control MMI is operated via the multifunction buttons on the steering wheel.
Description
The special feature of the MMI-Control is that, strictly speaking, it is not a finished product, but a device that can be flexibly configured according to the customer's wishes and can be extended by software updates. In principle, all measured values from the control units can be read out and displayed. The design of the round instruments can be freely changed by exchanging the background graphics and the pointer graphics.
However, this flexibility also means that the MMI-Control is not ready for use immediately after installation. Using an Android app, the firmware, the graphics for the desired design and a configuration file must first be transferred to the MMI-Control. This can be done wirelessly via Bluetooth.
Scope of delivery
MMI-Control control unit
CAN cable set
Display cable
Unlocking tool
Before purchase (*Note)
Use a diagnostic tool (such as VCDS) to check whether the engine control unit supports the UDS diagnostic protocol. VCDS connects to the engine control unit for this purpose. VCDS displays the protocol in the top left corner. There "UDS" must be written. Other protocols are not supported by the MMI-Control for the time being.
No customer reviews for the moment.