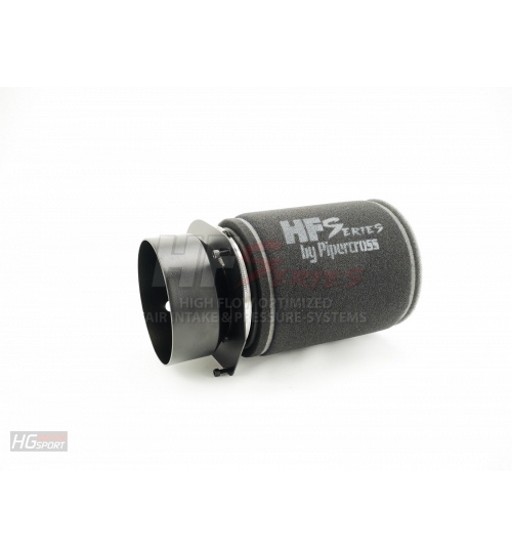  
HF-Series A45/ CLA45/ GLA45 4" Intake Upgrade Kit
4" Intake Upgrade Kit for Mercedes-Benz A45 AMG + CLA45 AMG + GLA45 AMG
This offered 4" Intake Upgrade Kit is the perfect optimization of the air filter system of your A45 AMG, CLA45 AMG und GLA45 AMG, which is designed for maximum performance and also gives you an incomparable intake noise. 
Also tested for performance enhanced engines and highly recommended.
Like you can see on the pictures, the original air filter construction is reduced to 65mm inner diameter by the plastic-adapter-plate.
Already with series software, this leads to a performance drop down in the upper RPM range. With our Intake Upgrade Kit, we increase the inner diameter to 98mm (102mm/4" outer diameter) and also improve the air flow at 52,43% in combination with the Pipercross air filter. 
The higher maximum performance we achieve is not only in the upper RPM range, it is up to the whole RPM range.
This also leads to an enormously improved response behaviour in all RPM ranges.
Technical details:
More power and torque increase due to a better, faster and higher air flow compared to the standard air filter system
Increased air volume due to optimal intake capacity -> faster and more effective cylinder filling
Sportier and more aggressive intake noise
Greatly improved response
Thus, the air is passed maximum cooled to the engine
incl. approval
Suitable for:
Mercedes A45 AMG 360HP & 381HP
Mercedes CLA45 AMG 360HP & 381HP
Mercedes GLA45 AMG 360HP & 381HP
Delivery:
air filter inlet incl. HF-Series air filter by Pipercross and all necessary mounting parts + TÜV certificate (German MOT)
Oxygen is needed for fuel combustion. The more oxygen gets into the enginge, the more fuel can be injected, which leads to a significant increase in performance.
No customer reviews for the moment.