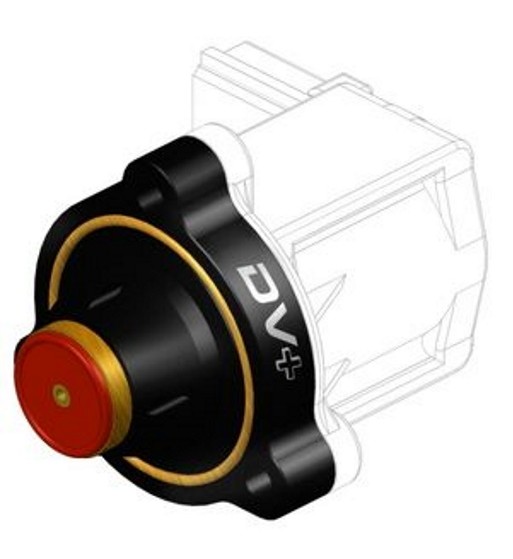  
GFB DV+ for VAG 2.0, 2.5, 1.8 and some 1.4 TFSI
GFB's DV+ solution couldn't be simpler - keep what works and replace what doesn't.
Worldwide Patent and Design Patent Pending
Retains the factory solenoid coil for seamless integration
Replaces plastic valve parts with metal for reliability and strength on chipped engines
Direct-fit replacement with GFB's TMS benefits
Exclusive "pilot-actuated" valve mechanism for rapid response at high boost
GFB expands the DV+ range with a direct-fit solution for the weak factory diverter valve used on many European vehicles.
The solenoid coil itself from the factory-fitted valve is great (the ECU opens it faster than any pneumatic valve so why replace it?), but the weak point however is the valve mechanism itself. So GFB's DV+ solves this problem by replacing just the valve parts with an anodised billet aluminium housing fitted with a brass piston machined to exacting tolerances.
The end result is sharper throttle response, lightning-fast valve actuation, and it will hold as much boost as you can throw at it. Read all about the DV+ story on the next page.
Other manufacturers' products involve replacing the entire system with a traditional pneumatic valve, requiring long vacuum hose runs, additional parts for tapping into the intake manifold vacuum, plus either a different solenoid valve to actuate the pneumatic valve or a ballast resistor to plug into the OE wiring loom. All these additional items result in a product that is slower, less responsive, more expensive and takes much longer to install.
GFB's DV+ solution on the other hand is more responsive, less expensive, easier to install, and doesn't cause compressor surge/turbo flutter. Oh, and it doesn't require different springs or frequent re-builds.
Fits the following vehicles:
Audi A3/S3/RS3 8P (2003-2013)
Audi A4 B7 (2005-2008)
Audi TT 8Jinkl. TTS/TTRS (2006-2013)
VW Golf 5 GTI/Rabbit (2003-2008)
VW Golf 6 GTI (2008-2013)
VW Golf 6 R (2008-2013)
VW Golf 7 GTI
VW Scirocco R
VW Jetta GLI MkV (2005-2010)
VW Passat B6 (2005-2011)
No customer reviews for the moment.