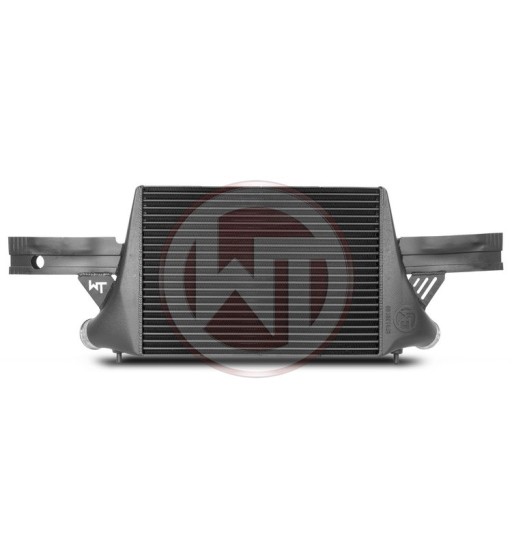  
Wagner Competition Intercooler Kit EVO 3 Audi RS3 8P
The Intercooler Kit for Audi RS3 8P EVO3 is a further development of the previously known EVO2 Intercooler Kit.
The high performance intercooler has the following core dimension (515mm x 367 [274] mm x 95mm) and thus offers a 120% larger cooling surface and 142% more charge air volume compared to the original intercooler. The newly developed competition core granted the adjacent components, for example watercooler, sufficient airflow and is also very light. The endtanks of the intercooler are made ??of cast aluminum and have been optimized under flow analyzes in the CAD system. With the help of additional air baffles, inside inlet, providing for a uniform filling of the intercooler. The result is excellent cooling properties with minimum back pressure. So this kit is just the right thing for racing. The intercooler and the original crossmember form a stable unit and weighs only 11.2 kg. It is mounted to the original mounting points and is easy to perform (1:1 exchange). Optimum cooling of the charged air with a clear increase in performance! On both sides the connection diameter is 68mm.
OEM intercooler: cooling surface 856cm² / charge air volume 6,8L
WT EVO 1 Performance: cooling surface 856cm² / charge air volume 9,4L
WT EVO 2 Competition: cooling surface 1391cm² / charge air volume 13,2L
WT EVO 3 Competition: cooling surface 1890cm² / charge air volume 16,5L
packing list:
1 intercooler including crossmember
1 mounting material
1 set licenceplate holder
1 installation instruction
No customer reviews for the moment.